HELLO
, and thank you for taking the time to visit my website. I'm Andrew Baskott, a professional freelance photographer from Northampton with a passion for capturing the diverse landscapes, gardens, architecture and historical locations of England and Wales.
I really love what I do and by concentrating on these very specific photographic subjects brings consistency to the style and quality of the pictures I produce. I like to take a considered approach to my work, I'm not interested in simply taking snapshots. It's an approach
clients
seem to appreciate too with my images being used across a wide range of publishing and commercial sectors worldwide. Uses include magazine and newspaper features, magazine covers, books, calendars, greetings cards, websites, corporate brochures and advertising. And a large-format version of a Northamptonshire landscape currently adorns the vehicles of a consumer-goods company in Germany.
I undertake photography for the
National Trust
and my work is also represented by several leading picture libraries:
Loop Images
,
Alamy
and
Collections
.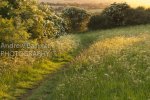 In 2012, I was awarded 2nd place in the 'Breathing Spaces' category of the
International Garden Photographer of the Year
competition for 'Evening Gold' (right).
Whether it's for a
commission
or
stock
, planning a shoot is essential. This means knowing as much about a location as possible in advance so as to be able to work it to the best advantage and so create some great pictures. What I don't want to do is to get there and then think, "where do I start?" That doesn't mean, of course, not being able to respond to the unexpected or take advantage when good fortune strikes. Best laid plans....
In addition to my photography, I'm also a successful
freelance writer
. I have written for several publications and been commissioned to write and illustrate feature articles for magazines such as The Countryman and Outdoor Photography.
Here are some kind words about my article 'THE MAKING OF A PLANTSMAN'S PARADISE' - published in
The Countryman
-
"...forty years of life and work summed up in one thousand words, which flow together and read beautifully! That, Andrew, is very clever and thoroughly well done."
Frank Lawley - author and together with his wife Marjorie the owner and creator of the stunning gardens of Herterton House in Northumberland.
Whatever the reason for your visit to my website, whether it's to locate and
licence
an image for editorial or commercial use;
commission me
for your next project or just simply out of curiosity, I hope your browsing is both fruitful and enjoyable. If you've not found what you were looking for, have any questions, or wish to discuss your current picture or
writing
needs further, then please feel free to
get in touch
, I'd love to hear from you.
Thank you and enjoy!
COPYRIGHT |
All images and content within this website are the
Copyright © of Andrew Baskott 2008-2019
and as such may not be copied, stored electronically or otherwise, manipulated, reproduced or used in any way without written permission. To do so would be a breach of copyright. By entering this website you are bound by the above terms. All rights reserved. Fair use is not an excuse.